Features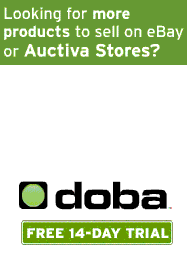 Product Sourcing the Drop Shipping Way
Focus on growing your online business by outsourcing order fulfillment.
by Auctiva.com staff writer


Many retail merchants looking for products to sell without the high costs of inventory and the hassles of packing and shipping products have discovered drop shipping to be the perfect solution. With this model, you list and sell a product at whatever retail price you set, collect your money, and then order the product from a drop-ship wholesale supplier, who packs and ships the product directly to your customer. Read story
Finding Products to Sell on eBay at Wholesale Tradeshows
Tips for navigating supplier conventions, large and small
by Skip McGrath
Shipping Costs and Your Bottom Line
An analysis of options for domestic shipping of standard-size packages
by Marsha Collier

Buy Locally, Sell Globally
Turn routine shopping trips into eBay treasure hunts.
Timing Your Auctions
Scheduling your auctions for best results
View more Articles.
Free Auction Templates. In addition to our hundreds of free templates, Auctiva offers custom design services. Benefit from our expert marketing advice and have our professional designers create an auction template to dress up your listings and boost sales. Learn more
Unique eBay Auctions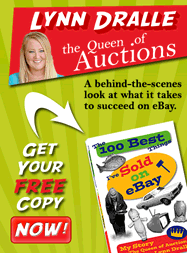 Your Face Here
Want your likeness immortalized but fearful that the face of Mt. Rushmore can't accommodate another face? How about tattooing your mug on the torso of a complete stranger. For just $100,000, this seller will tattoo your face on his side, and he promises he won't later have it removed. Perhaps this is the answer to the age-long question of what you get for the person who has everything.

My Left Shoe
Ordinarily, you probably wouldn't pay much for a tattered size 8 black suede shoe. But if the fact that this particular piece of footwear has traveled with a rock band and been in most major cities in the contiguous 48 states would make you reevaluate its value, then you're the kind of potential buyer this seller is looking for. You'll receive photos of the shoe at attractions like Disney World that it's seen on its estimated 20,000 miles of lifetime travel.

Happy Nappy
OK. This is little more than a paper napkin with a happy face drawn on it. But this seller promises a little more: "With all the fear and negativity in the news, all the stress and strain from work and school, you just need to take a break from it all and smile," he writes. "Happy Nappy is sure to help you crack a smile in your stressful day, remember you live only once, why go though it sad and dismally? Just Smile."
Browse eBay's Weird Stuff category.
---
News Stories

eBay Fails to Wow Wall Street
In Amazon's shadow, slowing growth disappoints.


Shares of eBay Inc. are still down, more than a week after taking a beating on Wall Street following the company's good news-bad news earnings report of July 16. Read story
uBid.com to Open Fixed-Price Liquidation Site
RedTag.com will compete with Overstock.com
eBay Wins in Tiffany Trademark Case
Auction platform ruled not liable for sale of fakes on its site.
View all News Stories.
Free Unlimited Image Hosting. Stop wasting your money on image hosting for your eBay auctions. Auctiva online auction software is free and includes image hosting. Our service allows you to upload up to hundreds of images at a time, and we can help you add supersized images or a slideshow to your auction. Learn more
Auctiva User Survey

Tell Us What You Think


We want to know how you think we're doing. Do our articles help you sell more effectively on eBay? Do the topics we're covering hit the mark? Please take a moment to fill out our survey and tell us what you think about our newsletter and Web site.
Take the survey here.
---
Recent Feedback
In response to our news story about eBay's earnings report, user "Carlos" writes: "I really believe the reason for the price of eBay stock has dropped due to many sellers leaving eBay…[I] hope they [make] some better changes that will benefit the sellers, whom are also buyers. This way they can become the powerhouse they were a couple of years ago. If not, they will loose investor money and we as users will loose out too." Read the entire thread, and post your response.
If you'd like to comment on this newsletter, any article contained within, or on topics you'd like to see us cover in the future, Auctiva editors would love to hear from you. Send us your feedback here.