Features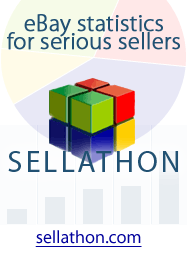 7 Deadly Sins of eBay Sellers
Avoid these common mistakes and watch your eBay business grow.
by Skip McGrath


There are many ways to lose money trying to sell on eBay. If you want to build an eBay business and make money consistently on the auction site, you need to avoid the Seven Deadly Sins. Read story
The Art of Pricing
Pricing auction items for profit without scaring away customers
by Julia Wilkinson
Web 2.0 for e-Merchants
Use social networking sites to help drive more people to your listings.
by Brad and Debra Schepp

Blogging to Attract Customers
Drive traffic to your listings with your Auctiva Store blog.
What Price Is Right?
An overview of eBay auction pricing options
View more Articles.
Free Unlimited Image Hosting. Stop wasting your money on image hosting for your eBay auctions. Auctiva online auction software is free and includes image hosting. Our service allows you to upload up to hundreds of images at a time, and we can help you add supersized images or a slideshow to your auction. Learn more
Unique eBay Auctions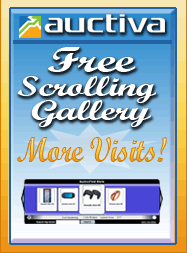 The Dark Knight Lives
In trouble and desperately need the help of a super hero? This oak leaf in the shape of the Batman symbol just might summon the shadowy do-gooder to come to your aid. Or not.

Lucky Onion Ring
Some people are just naturally lucky. If you're not one of them, this "naturally produced" onion ring in the shape of lucky number eight is virtually assured by the seller to bring years of good luck to the lucky winner of this auction.

Two-Faced Raisin
The seller claims this chocolate-covered raisin cluster bears the striking visage of a smiling face on one side and a frowning face on the other. Is it the two-faced jester of chance or just a random candy morsel? For this price, the world may never know.

Bills Toll for Thee
Will you buy anything that has your name on it? If your name is Bill, this auction might be your winning ticket. This seller is offering some sucker, er, generous person the opportunity to acquire a unique collection of unpaid bills, from water to utilities to medical expenses. No frills, just the basics. No one really enjoys paying their bills. So why not pay someone else's?
Browse eBay's Weird Stuff category.
---
News Stories

Credit Cards, PayPal to Report Sellers' Income to IRS
New housing law brings tax implications for U.S. eBay sellers.


The Housing and Economy Recovery Act of 2008, which was signed into law on July 30, is of particular importance to online sellers—regardless of their housing situation. Read story
Changes Make Some Listings 'Invisible'
eBay's new 'Finding' technology limits visibility in search results.
Links Policy Unchanged
eBay withdraws ban on links to external sites.
View all News Stories.
Free Inventory Tracking. Got many identical items for sale? Auctiva's inventory management tools, allow sellers to track inventory, automatically relist items, and track profit and loss from all their sales. To create links that direct online traffic to your eBay pages, click here.
Auctiva User Profile

Profile: Vintage Flair


As an inveterate collector and estate-sale aficionado, Richard Kelly believed it was a natural step to open a shop centered on collectibles and one-of-a-kind items. Together with his girlfriend, Cindy Gilbert—who brings 25 years of experience running a pawn shop—Kelly operates Kellyclanstore on eBay, where items for sale range from vintage glassware and antique dolls to record albums and sports memorabilia. Read more or browse Kelly's listings.
Get Featured Here


Got a success story you want to share? What amazing garage sale finds have you turned into monster profits online? How has using Auctiva's free templates and auction management tools improved your eBay business? Drop a line and tell us in 50 words or less about an outstanding e-sale experience, and perhaps we'll feature your story in an upcoming issue of The Online Seller newsletter. Submit your story here.
---
Feedback Forum
In response to "Buy Locally, Sell Globally," one user writes: "The good thing about buying the items from the retail stores is that you can actually return them if they do not sell. We have done this several times with other items. It's a bit of a hassle to return them but at least you do have the option to get what you invested back." Read the entire thread, and post your response.
If you'd like to comment on this newsletter, any article contained within, or on topics you'd like to see us cover in the future, Auctiva editors would love to hear from you. Send us your feedback here.