Features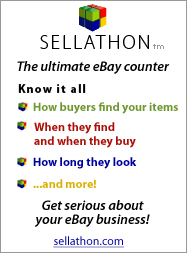 Sourcing for Online Sales? Think Globally
Web sites connect sellers with vendors around the world.
by Brad and Debra Schepp


We know that as you read this you are likely taking a brief and much-deserved break from listing, selling, processing and shipping your holiday inventory. You most likely sourced everything you're selling now eons ago, in e-commerce time, and you're way too busy to think about your next sourcing dilemma. But we're here to remind you that January is just around the corner, and the holiday rush of 2008 will pass as surely as all the holiday rushes before it. Perhaps a brief distraction to consider your next great product source is just the sauce you need for your holiday goose. Read story.
Profitable Tools in an eBay Store
Stores offer more benefits to increase business than sellers realize.
by Janelle Elms
Practicing Product Rotation for Sustained Sales
Tips for positioning online inventory to attract buyers
by Dennis L. Prince
eBay, the Holiday Superstore
Experts share insights on finding bargains and the right gifts.
I Want My Money Back
The fundamentals of returns policies for eBay sellers
View more Articles.
Free Scrolling Gallery. Give visitors to your listings a glimpse of other items you have for sale. Auctiva's free scrolling gallery is a highly effective cross-promotional tool that invites buyers to enter your Auctiva Store and browse everything you have listed on eBay. As a result, you can generate more visits, more bids—more sales!
Unique eBay Auctions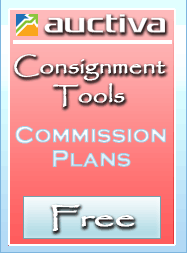 No Strings Attached
Don't have the kind of coin that can buy you a spot in the Senate? You can still acquire a seat formerly occupied by Barak Obama—his drivers' seat. Up for grabs is the actual 2005 Chrysler sedan that was driven by the president-elect while he served as a U.S. Senator. It won't have quite the same cache as a legislative appointment, but it comes with less baggage—and it's probably a lot more comfortable than that cold, wooden chamber bench. Besides, with only 20,000 original miles on it, it's been slightly less used.

Snap, Crackle, D'oh!
This cereal morsel might have wound up an indistinguishable mash in a tasty crisped-rice-and-marshmallow bar had an alert seller not noticed its peculiar likeness to cartoon TV icon Homer Simpson. We must admit the resemblance is remarkable. But now we're hungry for Rice Krispie treats.

Snow Day
If you've been dreaming of a white Christmas, you can create your own winter wonderland with this pile of authentic snow, carefully preserved after a rare December flurry in subtropical Southeastern Texas. Feeling a little humbug? Lob the snowballs instead at your over-decorating, obnoxiously cheerful neighbor. Either way, it's sure to enliven your holiday spirit.
Browse eBay's Weird Stuff category.
---
News Stories
KickItBack Adds New Retailers
Site adds more than 60 online stores to its cash-back program.


KickItBack.com this week announced a couple of major enhancements. First, users can now get cash back for shopping with more than 60 retailers. Along with this expanded offering, the KickItBack site now has a more functional interface to help users take full advantage of the program's benefits. Read story.
'Tis the Season to Take Extra Care With Packages
Don't let parcel delivery problems spoil the holiday joy.
eBay Reveals America's Top Obsessions
Hot items in 2008: high-tech toys, teens stars, politics
View all News Stories.
Free Unlimited Image Hosting. Stop wasting your money on image hosting for your eBay auctions. Auctiva online auction software is free and lets you show buyers up to 24 images per listing. Our service allows you to upload up to hundreds of images at a time, and we can help you add supersized images or a slideshow to your auction. Learn more
Ask the CEO

Will Auctiva Still Offer Free eBay Tools?


If Auctiva Commerce is successful in providing a marketplace that competes with eBay, how long will you continue to support and develop the free eBay listing tools? Jeff Schlicht answers this and other questions from Auctiva users. Read more.
Got a burning question about eBay, Auctiva or e-commerce in general? Through our Ask the CEO program, you can speak directly to Auctiva Chief Executive Jeff Schlicht. All you have to do is send an e-mail to "asktheceo" at the Auctiva.com domain. Selected questions will be answered by Jeff and published in an article on the Auctiva Education tab.
Please do not submit inquiries requiring an immediate response. If you need a technical issue resolved right away, please file a support request and your case will be addressed by our customer support team.
---
Auctiva User Profile

An Open Book


Kathrine Cook loves to read. She has closets full of books to prove it. But when parts of her house began to resemble a book shop, Cook realized it was time to begin a new chapter in her life. Read more or browse Cook's listings at Kat's Corner Bookstore.
Get Featured Here


Got a success story you want to share? What amazing garage sale finds have you turned into monster profits online? How has using Auctiva's free templates and auction management tools improved your eBay business? Drop a line and tell us in 50 words or less about an outstanding e-sale experience, and perhaps we'll feature your story in an upcoming issue of The Online Seller newsletter. Submit your story here.
---
Feedback Forum
In response to "Handling Negative Feedback," one user writes: "You're right, not getting a negative certainly is the way to go. Unfortunately, we're dealing with humans, with all their imperfections and emotions. I have had an occasional buyer who has been dissatisfied for some reason—no problem, IF they tell me what that problem is. Sometimes it's a knee-jerk negative feedback, though, with no opportunity to fix the problem." Read the entire thread, and post your response.
If you'd like to comment on this newsletter, any article contained within, or on topics you'd like to see us cover in the future, Auctiva editors would love to hear from you. Send us your feedback here.