Features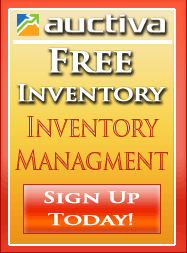 What's Ahead for eBay and You?
Merchant group aims to help the site restore its brand value.
by Brad and Debra Schepp


As the new year unfolds, many questions remain unanswered. Will the new American president have a successful administration? Will the economy rebound, and when? When will we get our Auctiva Commerce invitation? What can we expect to see from eBay next? Read story.
Get Page 1 Ranking on Google, Part 1
Top 3 places to utilize profitable keywords in your eBay Store
by Janelle Elms
Revisiting Your Shipping Methods
Earn higher DSR marks with a few simple adjustments.
by Dennis L. Prince
Classifieds Give Online Sellers More Options
Learn to use the 'underused' format.
The Price of Success
Understanding eBay seller's fees
View more Articles.
Warranty Service. Buyers want one thing: To know that their purchases will be protected if something goes wrong. With warranties from BuyShield, you can offer extended product coverage on a variety of items including electronics, tools and gardening equipment at a significant savings compared to retail stores. And BuyShield pays you a commission on every warranty purchased for your items. Learn more.
Unique eBay Auctions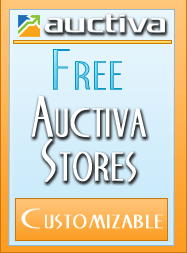 Will Work For Bids
Here's one way to work smarter, not harder. Rather than waste time sending out hundreds of résumés to companies more likely to be firing than hiring, this out-of-work, "vintage" professional decided to sell her creative talents on eBay. The media buzz alone may attract a job offer or two. But we think she'd raise more money holding a cup and a cardboard sign.

Best Match: Your Logo, His Butt
No buts about it, times are tough, even for boxing champs. So when the bottom drops out of corporate sponsorships and you can't pay the bills, it's time to hand over your shorts—as advertising space, of course. That's why "Bad Chad" Dawson is auctioning the chance for one lucky bidder to display their logo on his trunks during his HBO-televised rematch with Antonio Tarver. The March 14 fight is expected to draw viewership in the millions. By cable TV standards, that's some serious booty.

Beam Me Up, Scotty
Tired of searching for signs of intelligent life on eBay? Need a way to escape from the daily grind? With this rock in the shape of the Starfleet Command insignia from a certain celebrated sci-fi franchise, you can imagine you're the captain of a starship trekking across the galaxy, boldly going where no one has gone before. Or… you could just get a life.
Browse eBay's Weird Stuff category.
---
News Stories

Whitman Steps Toward Political Run
Ex-eBay chief forms campaign team in advance of 2010 governor's race.


Meg Whitman has taken the first step toward a bid to become the next governor of California by forming an "exploratory committee" to seek the Republican nomination in 2010. Read story.
Ex-eBayer Plans Multichannel Selling Solution
Blackthorne creator launches venture to enable listing on all marketplaces.
Good News, Bad News for e-Commerce
Sales comeback seen by 2010, but long-term growth to slow.
View all News Stories.
Free Auction Templates. Enhance your brand and increase sales. With more than 1,500 free templates to choose from, representing every category, color, style and theme imaginable, give your listings an attractive, professional look that will get you noticed. Learn more.
Ask the CEO

Get Answers to Your Questions


Got a burning question about eBay, Auctiva or e-commerce in general? Through our Ask the CEO program, you can speak directly to Auctiva Chief Executive Jeff Schlicht. All you have to do is send an e-mail to "asktheceo" at the Auctiva.com domain. Selected questions will be answered by Jeff and published in an article on the Auctiva Education tab. Read some recent Ask the CEO articles here.
Please do not submit inquiries requiring an immediate response. If you need a technical issue resolved right away, please file a support request and your case will be addressed by our customer support team.
View all Ask the CEO articles.
---
Auctiva User Profile

The Right Stuff


Having spent 30 years in business selling semiconductors, computer equipment and software, Bob Heitner understands that when the product you sell has a standard part number, you stake your livelihood on service, trust and word of mouth, not just price.
Read more or browse Heitner's eBay listings at Stuff Things and Goodies.
Get Featured Here


Got a success story you want to share? What amazing garage sale finds have you turned into monster profits online? How has using Auctiva's free templates and auction management tools improved your eBay business? Drop a line and tell us in 50 words or less about an outstanding e-sale experience, and perhaps we'll feature your story in an upcoming issue of The Online Seller newsletter. Submit your story here.
---
Feedback Forum
In response to "Managing the Mandate," one user writes: "My method for 'managing the [mandate]' was simply to take my sales business elsewhere. It is not only their new 'electronic only' mandate, it is their attempt to regulate shipping charges to unreasonably low levels, making sellers 'eat' some or all of the shipping cost (increasingly expensive); it is their increase in other fees; it is their bogus 'fee reductions' for those holding stores... In short, they have strayed far from their roots, and have become unethical." Read the entire thread, and post your response.
If you'd like to comment on this newsletter, any article contained within, or on topics you'd like to see us cover in the future, Auctiva editors would love to hear from you. Send us your feedback here.