Features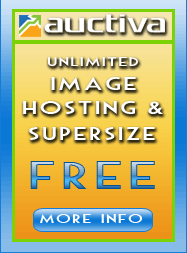 7 Steps to Highly Successful Product Sourcing
Learn to find the right products and suppliers to fuel your business.
by Lisa Suttora


Your product line is the engine of your business. Without the right products to sell, all the best marketing efforts and top selling strategies won't result in a consistent online income. Read story.
Tweet Today for a Tweeter Tomorrow?
Blogging site, Twitter, can serve as business marketing tool.
by Brad and Debra Schepp
Fixed vs. Dynamic Pricing
Tips to help you determine which strategy will help your bottom line
by Dennis L. Prince
Online Marketing on the Cheap
3 simple ways to increase traffic to your listings.
Organize With Your My eBay Page
Get the most out of this one-stop information center.
View more Articles.
Free Listing Generator. With Auctiva's complete one-page listing tool, you can easily and quickly create professional looking auction listings that will garner increased views and higher bids. Need help writing an attention-grabbing title? Optimize your keywords using this free tool.
Unique eBay Auctions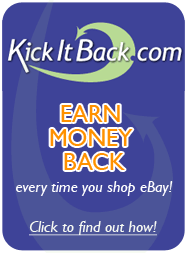 Full Disclosure
If what you're looking for is a little transparency in your financial dealings, check out this auction. The seller promises: "Give me a dollar and I'll tell you how I spend it." In these days of investment rip-offs and bonus bailouts, you can't ask for more than that.

Your Own Two Feet
Are you the kind of person who's got two left feet? This auction for two right feet could be just what you need. And even if these former mannequins' dextropedal extremities don't immediately change your fortunes, at least you'll have two chances to get started on the right foot.

Side of Bacon?
Know someone who's always got bacon on their mind? Why not give them a pair of bacon earrings so they can have bacon on their ears, too? These 2-inch "strips" might even delight their taste buds.
Browse eBay's Weird Stuff category.
---
News Stories

eBay Shoppers Jump Ship
Analytics show decrease in traffic and bids during February.


Buyer attrition from eBay appears to be on the rise, despite the company's focus over the past year on building a more predictable retail-like marketplace. eBay shoppers are buying on Amazon more frequently than they did a year ago, according to research conducted by a Web analytics company. Read story.
Kentucky Bill Targets Auctioneers
Officials say most eBay sellers won't be affected.
eBay Aims to Reward Loyalty
Big spenders may see incentives from PayPal.
View all News Stories.
Warranty Service. Buyers want one thing: To know that their purchases will be protected if something goes wrong. With warranties from BuyShield, you can offer extended product coverage on a variety of items including electronics, tools and gardening equipment at a significant savings compared to retail stores. And BuyShield pays you a commission on every warranty purchased for your items. Learn more.
Ask the CEO

Are More Free Templates in the Works?


I'm sure you folks have been busy getting the Auctiva Commerce stores up and running, but are there any plans to introduce new templates for eBay listings? Jeff Schlicht answers this and other questions from Auctiva users. Read more.
Got a burning question about eBay, Auctiva or e-commerce in general? Through our Ask the CEO program, you can speak directly to Auctiva Chief Executive Jeff Schlicht. All you have to do is send an e-mail to "asktheceo" at the Auctiva.com domain. Selected questions will be answered by Jeff and published in an article on the Auctiva Education tab. Read some recent Ask the CEO articles here.
Please do not submit inquiries requiring an immediate response. If you need a technical issue resolved right away, please file a support request and your case will be addressed by our customer support team.
View all Ask the CEO articles.
---
Auctiva User Profile

Barkin' Up a New Tree


When your career goes to the dogs, sell dog accessories. That could easily sum up the last two years for Max Salmenson, a former computer programmer who recently found a new calling as online pet accessory merchant BarkinWoofer.
Read more or browse Salmenson's eBay listings.
Get Featured Here


Got a success story you want to share? What amazing garage sale finds have you turned into monster profits online? How has using Auctiva's free templates and auction management tools improved your eBay business? Drop a line and tell us in 50 words or less about an outstanding e-sale experience, and perhaps we'll feature your story in an upcoming issue of The Online Seller newsletter. Submit your story here.
---
Feedback Forum
In response to "Enlisting 'Loss Leaders' to Boost Sales," one user writes: "I use a similar strategy: I like to have a few items listed at auction for 99 cents. This gets the bargain hunters' attention, but [items] also have a very good chance of not selling at a loss." Read the entire thread, and post your response.
If you'd like to comment on this newsletter, any article contained within, or on topics you'd like to see us cover in the future, Auctiva editors would love to hear from you. Send us your feedback here.