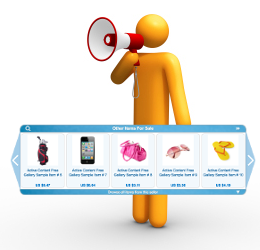 Double the traffic to your auctions
Cross-promote relevant items
Completely customizable
In more eBay auctions than any other scrolling gallery

Use our attractive Scrolling Gallery to market your other items on each eBay listing. Our Scrolling Gallery displays 14 items at a time and favors items that are ending nearest the time of the item being viewed. Best of all, the Scrolling Gallery is auto-appended to your listings and completely customizable.
It's a great way to showcase your other eBay items for sale! Keep your customer engaged as they review your listing by presenting them with additional merchandise using Auctiva's Free eBay Scrolling Gallery. This is your opportunity to capture your audience, and cross-promote and cross-sell relevant items within your inventory.
You can customize your Scrolling Gallery to complement your listing and establish your brand. It's simple and it's free.
Sign up with Auctiva today to take advantage of the countless potential sales that you'll have access to using Auctiva's Free eBay Scrolling Gallery.