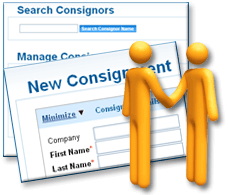 Management tools for your eBay consignment business
Track consigned items
Quickly add commission plans
Print detailed payout reports

eBay Consignment is used by sellers who sell on behalf of others. We offer the tools you need to make your eBay consignment business successful.
As a consignor, you utilize merchandise from other sources, providing the selling service for a commission. This takes organization and management, all made easier using Auctiva's tools.
Easily manage adding new consignment accounts.
Add new inventory to each account.
Alert your client when their items post with an automatic email.
Manage all payouts from one central location.
Automatically send email communications to your buyers, thanking them for their business, and alerting them to a winning bid.
Sign up with Auctiva today to start utilizing our eBay consignment tools!